By Loryn Purvis
Summer is coming!! The days are getting longer and the air a bit warmer. Of course, many would argue that Southern California is the land of endless summer, but there's still a definite "beach season" in my opinion. Even though temperatures rarely dip below 70 degrees, I managed to weasel my way out of adorning a swimsuit throughout my entire pregnancy. Score one for me! However, now that our baby girl is here and my son and husband are in constant beach-mode, I'm not sure how much longer I'm going to be able to put it off. It's time to get this post-baby body ready for the beach, and that's where this salad comes in.
It's really great when you find a completely healthy and nutritious meal that you actually enjoy eating. You know, something fun and flavorful that excites your palate while letting you feel really good about every bite. This salad does that for me. Add in the fact that it's really easy to throw together, and you have the complete package.
Whether you're looking to get ready for that swimsuit or not, this is a delicious meal that I know you'll love. I hope you'll give it a try soon!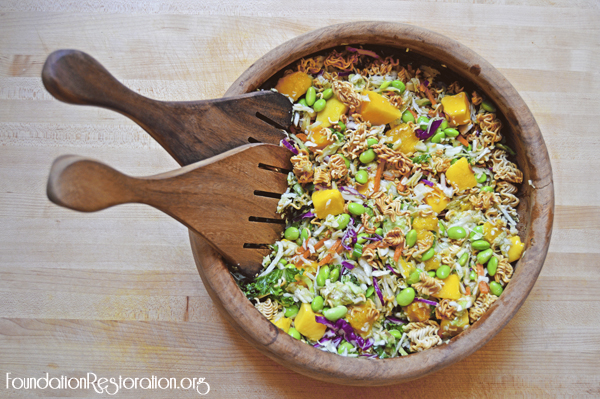 Crunchy Ramen Salad with Mango and Asian Honey Vinaigrette
Salad Ingredients:
1, 12 to 16 oz. bag tri-colored coleslaw mix
2, 3 oz. packages of ramen noodles, crumbled (you will not use the seasoning packet)
1 cup shelled and cooked edamame
2 avocados, peeled, pitted and diced
1 cup frozen mango chunks, thawed and chopped
1/2 cup thinly-sliced green onions
Asian honey vinaigrette (see ingredients below)
Vinaigrette Ingredients:
2/3 cup olive oil
1/3 cup honey
1/3 cup rice wine vinegar
2 teaspoons soy sauce
1/4 teaspoon sesame oil
salt and pepper, to taste
Heat oven to 425 degrees. Spread the crumbled ramen noodles on a baking sheet and bake for about 5 minutes, or until noodles are slightly toasted and golden. Remove baking sheet, toss and return it to the oven and toast for an additional 2 minutes. Keep an eye on the noodles so they don't burn. Remove and set aside.
To make the vinaigrette, whisk all ingredients together until combined.
Add ingredients (including the vinaigrette) together in a large bowl, and toss until combined.
Serve immediately, or cover and refrigerate for up to 2 days.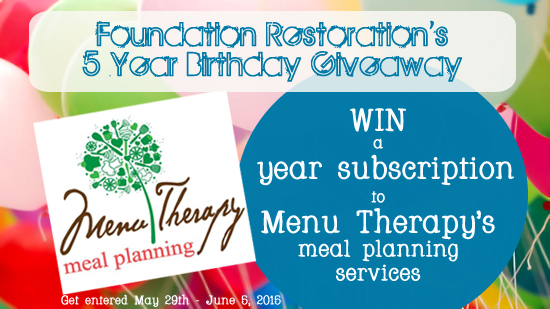 Giveaway Terms:
THIS GIVEAWAY HAS ENDED!!! Congratulations to our winner … Damaris!!!
PLEASE READ INSTRUCTIONS CAREFULLY to ensure eligibility!
To get entered to win today's featured Foundation Restoration 5 Year Celebration Giveaway for year subscription to Menu Therapy, do ALL of the following:
FOLLOW Foundation Restoration (@FndRestoration) & Menu Therapy (@menutherapy) on Instagram.
LEAVE A COMMENT on this giveaway's Instagram post & TAG 3 friends in your comment. Include #FRturns5giveaway in your comment too.
ALL ENTRIES WILL BE VERIFIED, so please be honest!!! Entries must be received by Friday, June 5th at midnight Eastern Standard Time. Winners will be selected randomly and notified by Instagram. If you're Instagram account is set to private and you're selected to win, you will be required to accept our follow request for verification. Winner will have 3 days to respond before winnings are forfeited.
Copyright © 2015, Foundation Restoration. ALL RIGHTS RESERVED. No reproduction allowed without written permission from Foundation Restoration and/or the author.