By Ashley McIlwain
One of the most common problematic areas for couples centers around the in-laws. It's no secret that marrying into a family means adjusting and adapting. How things operate for each family of origin varies, and the dynamics change when a son or daughter becomes a husband or wife. Unfortunately the transformations that need to take place within everyone involved don't always happen, and friction results.
This reality isn't a foreign concept to my husband, Steve, and me. We too struggled with the adjustments necessary when getting married and figuring out how things operated with our marriage and families. There were arguments, frustrations, and lots of conversations about how to make everything work with everyone. While both of us absolutely loved each other's family, it didn't mean it was smooth sailing getting all of the relationships where they needed to be.
Awareness and Understanding
Part of the problem is simply that what's "normal" for your family isn't necessarily "normal" for your spouse's family. Despite the fact that behavioral patterns within your family may seem totally acceptable to you, they may in fact be unhealthy or just completely foreign to your spouse. That calls for some revamping, grace, and awareness.
Most of the time the biggest struggle lies within each person being able to step back and realize that not everything about their family of origin is perfect or even healthy. Just because you grew up with it doesn't mean it's the right way; it's just your way. Oftentimes though, it's just so challenging for you and/or your spouse to "see the light" so to speak. And the longer that awareness takes, the more damage there usually is.
Really, both people need to be willing to let down their defenses, put off getting offended, and try to hear out what their spouse is trying to say. Usually it's a desperate plea to for some understanding more than anything. I know for me, I was sincerely trying to protect our marriage as well as my relationship with Steve's family when I would bring things up. It was out of love, not hate. Before there was an issue, I wanted to fix the potential "problems." And I knew that when he brought up concerns with my family, it was out of the same place.
When we can't view our spouse's concern from that place of love though, we silence them, and silence can be deadly. When your husband or wife realizes that you aren't willing to hear them out and/or make changes, usually they just stop trying. They stop trying with you, and they stop trying with your family. Bitterness, anger, and real problems ensue, which often end up becoming a chronic thorn in your side.
It is absolutely essential to listen to your spouse's concerns, graciously realizing that there is surely some validity to what they are saying and definitely to what they are feeling. Then you can go about figuring out how to address the situation as a couple.
Unity
Unity is of utmost importance in a marriage, which is absolutely the case in handling in-law adjustments. The problem is that we all feel a sense of loyalty and obligation to our parents that can mitigate and hinder our ability to unite fully with our spouse on issues pertaining to them. And while respect, honor, love, and appreciation for our parents are essential, your spouse is now your number one loyalty and concern.
Fortunately for Steve and me, we have parents who love us dearly and want the best for us, so they adapt pretty quickly and easily. This isn't always the case though. I've seen so many in-laws who are relentless and unwavering in their opinions, approach, and destructiveness. While it's unfortunate and not right that a parent put you in that position, if given the choice between your parents or your spouse … your spouse should be the hands-down selection every single time.
Now this doesn't mean that you neglect, abuse, or forsake your parents. I am a firm believer of Matthew 6:1-3, "Children, obey your parents in the Lord, for this is right. 'Honor your father and mother' – which is the first commandment with a promise – 'that it may go well with you and that you may enjoy long life on the earth.'" That's why it's important for the spouse bringing up issues to be respectful, loving, and sensitive to the fragility and significance of the situation. At the same time, Genesis 2:24 says, "For this reason a man will leave his father and mother and be united to his wife, and they will become one flesh."
Unity with your spouse is of paramount importance. And while that unity may take some intense conversations and discussions to find at times, it's always the goal. You and your spouse are one now, so even when it comes to your dear parents, your spouse is number one.
Boundaries
Parents will be parents. They will guide, instruct, fuss, and weigh in on your life. They've earned the right to do so, and most of their wisdom, love, and concern are what got you to where you are today. They've poured so much in to you, so they definitely feel a sense of entitlement to be a major part of your life … rightfully so.
My parents, especially my mom, are still primary parts of my life. I frequent them for advice, prayer, consoling, and love while wanting to provide them with the same. That's not a bad thing nor is it wrong for parents to want to be that to you. The problem arises when they are fulfilling the role of your spouse in any area of your life or you are fulfilling that role in theirs.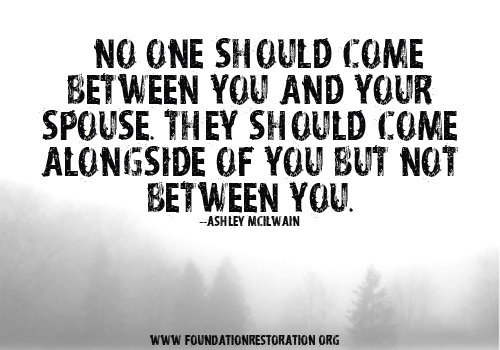 Whether it's parents, siblings, or friends, no one should come between you and your spouse. They should come alongside of you but not between you. This often calls for the need to establish boundaries, which are basically ground rules for your marriage and the relationships around you. These boundaries are the protective hedge surrounding you and your spouse.
Boundaries can be a lot of different things. Sometimes they are told to family members, and other times they are merely shared between you and your spouse. Maybe it's that you won't share any issues you are having in your marriage with your parents, or you will never speak negatively of your spouse to your parents. Perhaps it's setting a certain number of phone calls you will receive and make to your parents in a given week. Whatever it is, it's meant to help minimize or eliminate certain strains, pressures, or issues that adversely affect your marriage and spouse.
Join us Monday for Part 2 of In Love With Your In-Laws!