By Loryn Purvis
I love summertime! Long, warm days, beach bonfires and beautiful sunsets are just a few of the many reasons why. Summer is also the perfect time to reconnect with your spouse. Those long days are the perfect backdrop to freshen up your relationship with a nice picnic, a hike, outdoor dinners at your favorite eatery, or if you're like me, a trip to the local Farmer's Market with your honey.
Another great thing about summer is that many fruits and vegetables are at the peak of perfection. Farmer's Markets around the country are coming alive with the smell of fresh picked strawberries, beautiful bright red tomatoes, and so much more!  Since my husband and I are expecting our first baby in October, I've been going a little crazy trying to pack in as many fruits and veggies into my diet as possible. Last weekend's stroll through our farmer's market was sensory overload for this mommy-to-be, and I ended up with an awesome array of juicy fruits and fresh vegetables.
Most people would probably try to spread out all of their farmer's market goodies throughout the week, and I would usually agree. However, pregnancy-cravings overrule common sense, so I immediately took everything home, chopped it all up, and inspired by one of my favorite restaurant dishes, threw it into a salad. Now please hear me, this is not your Mama's salad. This salad is a meal! I didn't have any meat on hand, but you could easily grill up a marinated steak or chicken and toss it in. Perfection!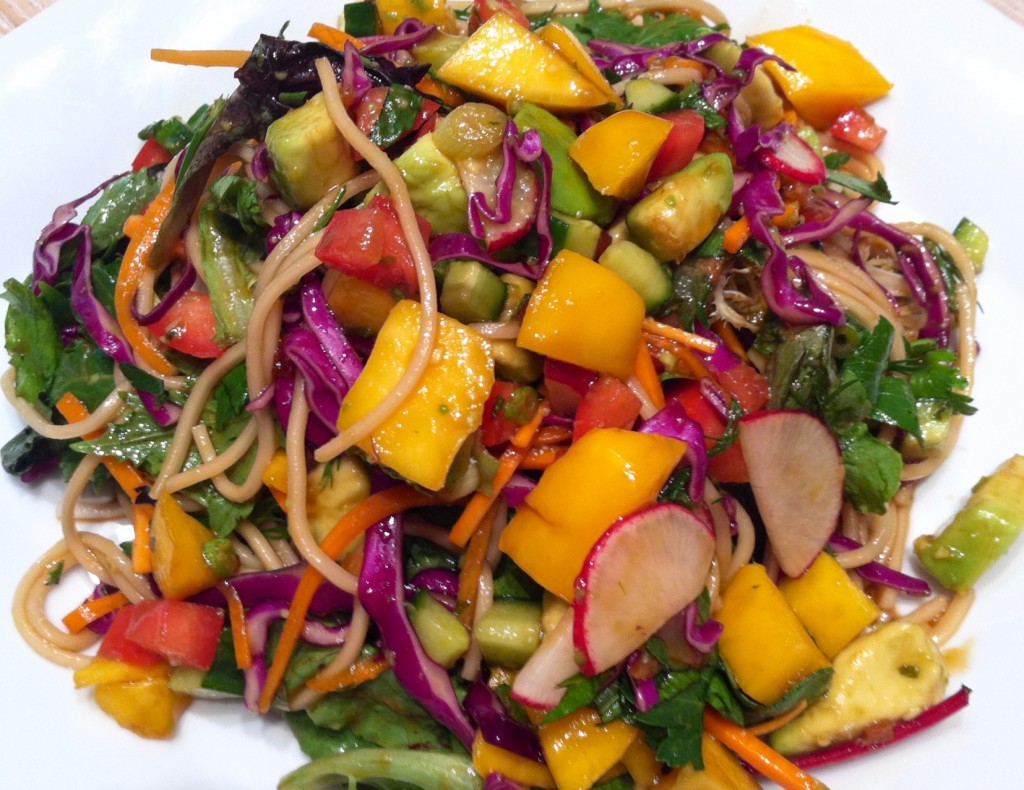 Thai Noodle Salad
1 oz. dried rice noodles, soaked and chilled (I actually used a chow mein this time)
Handful of salad mix (I like Trader Joe's Herb Salad Mix)
Handful shredded purple cabbage
3 thinly sliced radishes
1 small julienned carrot
2 diced avocado
1/3 cup seeded and diced cucumber
1/3 cup diced mango
1/3 cup seeded diced tomatoes
2 chopped scallions
Chopped Mint
Dressing
This recipe will yield a full quart of a sauce that can be used as a marinade, dipping sauce or as in this recipe, combined with an acid to create a salad dressing. It keeps forever in the refrigerator and I promise you will find many uses for it that you'll love.
1 qt soy sauce
1 qt packed brown sugar
4 T ginger, minced
4T garlic, minced
2 T lemongrass, minced
TT sambal chili sauce
12 ea. minced, basil leaves
Combine all but the basil in a sauce pan and bring to a simmer. Simmer for 5 minutes. Cool sauce then add the basil. Cover & chill.
For the dressing for this salad take ½ cup of sauce and combine with the juice of 3 limes. Combine with salad.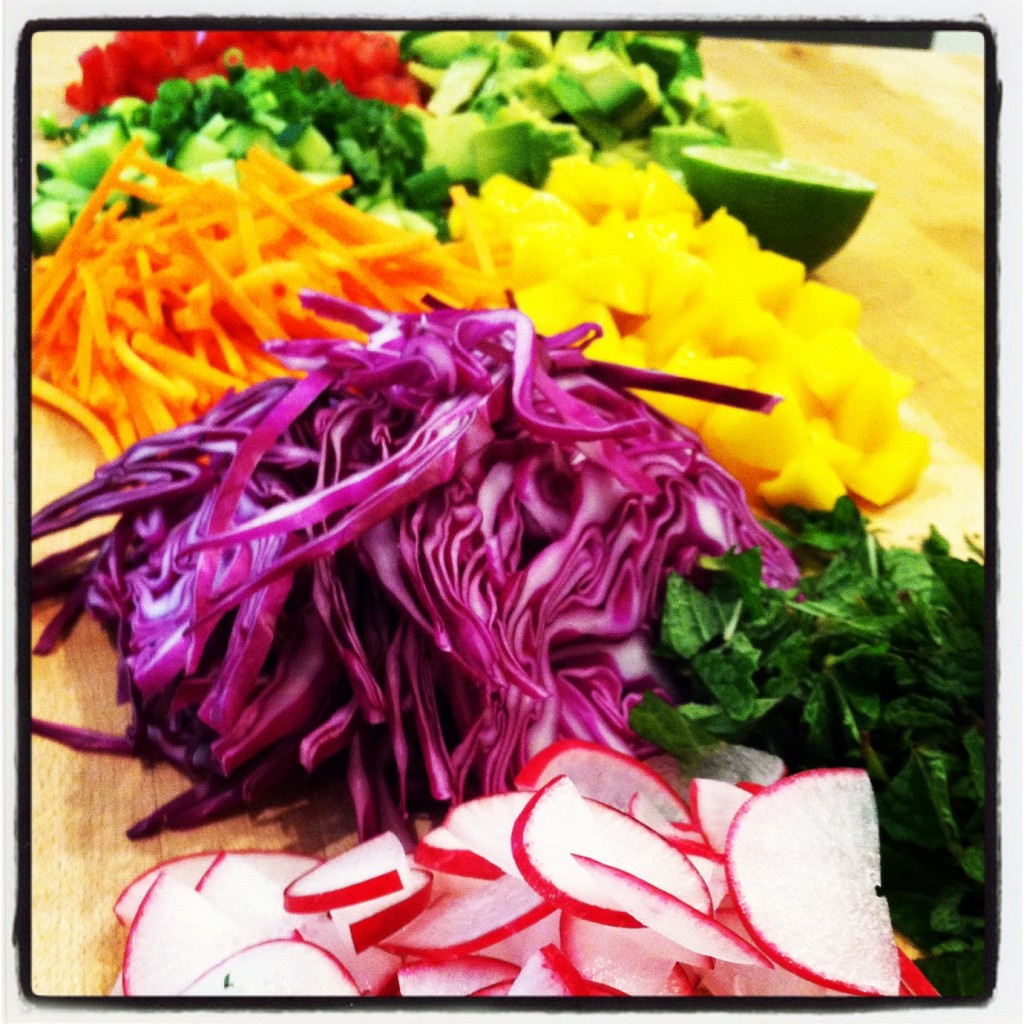 Copyright © 2012, Foundation Restoration.  ALL RIGHTS RESERVED. No reproduction allowed without written permission from Foundation Restoration and/or the author.