By Loryn Purvis
I just love my in-laws.  Every year I look forward to the month of July because I know I will get to spend some really great quality time with them when they come to visit Southern California. My in-laws are the best! They are encouraging, supportive, and all around fun to be with.
During their visit this year, they brought with them a bunch of recipes they wanted me to try, one of which ended up being especially delicious. My sweet mother-in-law joined me in the kitchen one afternoon, and we whipped up a delightful S'mores Pie. S'mores are, believe it or not, my all time favorite dessert, and the idea of turning them into a yummy pie thrilled me! The end result turned out great, and by the end of their trip, both of my husband's parents agreed that the S'mores Pie was the best thing they ate on the whole trip. See, I told you they were encouraging!
My husband and I both realize that we hit the in-law jackpot. My parents love and support him, and his parents love and support me. We're lucky that way, while I fully understand that many other couples are not. No matter which end of the spectrum you fall on, there are a few easy things you can do to maintain or improve that ever-delicate relationship.
BJ and I made a commitment when we got married to never talk disrespectfully about one another to our own parents. He doesn't run to his parents whenever he and I disagree, and neither do I. In doing that I feel that we are safe guarding our relationship and the way in which the other's parents view us. It's like wrapping a layer of bubble wrap around your spouse. We also refrain from bad-mouthing each other's parents. What good would it ever do for me to talk poorly about my husband's mom or dad? It would only cause him to become defensive and make me look insecure. Marital relationships already come with their share of problems and difficult situations, why add in-law problems to the mix if you can avoid it?
Next time you have a chance, do something sweet for your in-laws. Whether you take the time to try out your mother-in-law's latest recipe or even help your father-in-law out in his yard, let them know that you care about them. While these relationships aren't always easy for everyone, they're super important and always worth going the extra mile for.
 S'mores Pie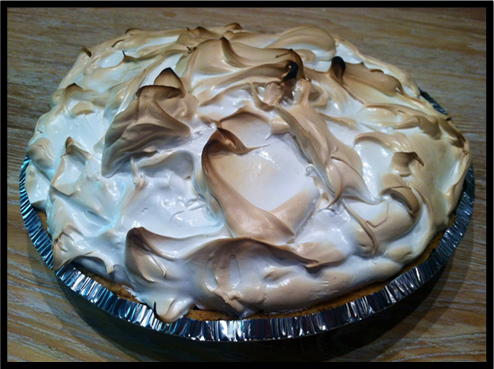 For the graham cracker crust:
I cheated … I bought one. Don't tell anyone. 😉
Chocolate Filling:
2 Tbsp unsalted butter
1 1/3 cups semisweet chocolate, chopped
1 tsp vanilla extract
2/3 cup granulated sugar
3 Tbsp cornstarch
2 Tbsp unsweetened cocoa powder
1/8 tsp salt
3 large egg yolks
1 cup heavy cream, divided
2 cups milk
To make the Filling: 
Place the chopped chocolate, butter, and vanilla extract in a 2-quart mixing bowl; set aside. In a medium saucepan away from heat, whisk together the sugar, cornstarch, cocoa and salt. Whisk in 1/4 cup of cold heavy cream until the mixture is smooth, with no lumps. Repeat with another 1/4 cup of the cream. Whisk in the egg yolks. Place the saucepan over medium heat, and gradually whisk in the remaining cream and milk. Bring to a boil, whisking constantly as the mixture thickens; boil for 1 minute. Remove the pan from the heat and pour the mixture over the reserved chocolate and butter. Whisk until the chocolate is melted and the mixture is smooth.
Pour into graham cracker crust and place plastic wrap on the surface to prevent a skin from forming. Chill for two hours over overnight.
For the topping:
4 large egg whites
1/2 cup plus 2 tablespoons granulated sugar
1/2 teaspoon cream of tartar
1 teaspoon vanilla extract
To make the topping:
Separate the egg whites from the yolks and place the egg whites in a clean, dry bowl of your electrical mixer. Using the whisk attachment, beat the egg whites until foamy. Add the cream of tartar and vanilla and continue to beat until soft peaks form. Gradually add the sugar and beat until stiff peaks form. Meringue should still have a glossy appearance. Be careful not to over whip.
Preheat oven to 400 degrees F.
Spread meringue over the pie filling starting in the center working your way out to the edge of pie. Bake for 7 to 9 minutes or until peaks are golden brown.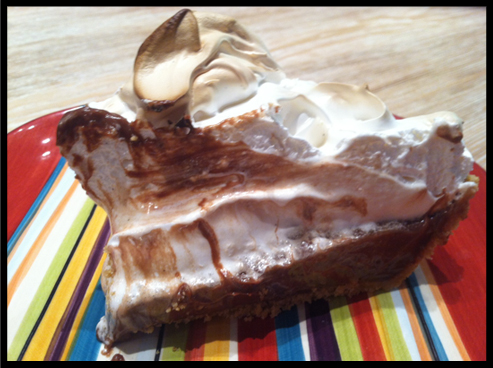 Copyright © 2012, Foundation Restoration.  ALL RIGHTS RESERVED. No reproduction allowed without written permission from Foundation Restoration and/or the author.