By Ashley McIlwain
"There it is. Another stupid game is on the television. How many games can he possibly watch? How many sports can he possibly keep tabs on? It's unbelievable!"
This inner, sometimes outer, dialogue probably resonates with a lot of you women out there. Your man is seemingly obsessed with sports. He has it on all of the time. He can't remember the two grocery items you asked him to pick up, but he can rattle off every stat under the sun when it comes to his favorite team. And if you see that highlight one more time on SportsCenter, you're pretty sure you could do the move yourself with your eyes closed and hands tied behind your back.
Seriously, what could be so interesting about a bunch of sweaty men running around?
Before I go on, I just want to start by saying that I am not an advocate of a sports junky. That's not the point of this article, and I will address the concerns and boundaries related to this later on. Just bear with me on this.
What if we stopped looking at this like a stupid game? What if we started looking at it like an opportunity? An opportunity to enter his world. To be interested in and care about something that's important to him. Not because you are ever going to be a sports fanatic but because you love him. Because taking interest in something he's interested in just might be the best decision you've ever made.
Ask yourself this: have you ever tried? I mean, have you ever actually sat down and watched a game with him? Cheered some team on? Asked questions about the game, or why he loves it so much? Or have you just automatically assumed it's the worst, most boring thing ever?
Granted, I'm a "guy's girl" as most of my friends would say. I played sports my whole life, and I enjoy watching sports both on television and at live events. Even I have my limits though and have to stretch myself from time to time. But most wives and girls I know that complain about their husband's addiction to sports comes without having ever made an effort to check out what all the fuss is about. Yet, they are usually the first ones to complain that their husbands don't show interest in things that are important to them.
Double standard alert! Ladies, if you want your man to go shopping with you, watch a ballet, or chit chat over coffee, then maybe it's time for you to ask yourself when the last time was that you jumped at the opportunity to cheer on his favorite team or shoot some hoops together? Think about it!
I'm not saying you should condone an obsession with sports television. In fact, I know that way too many men out there spend way too much time keeping tabs on any and every sport available. What I am saying though is that you might be able to help solve that problem, alleviate some of your stress, and build your relationship just by simply meeting your husband halfway on this.
Next time he has a game on, sit down and watch it with him. Don't ask a million questions right off the bat, but at the commercial break, indulge him with a few inquiries that might be buzzing around in your head. Make it interesting for yourself. Choose a team (even if it's based on the color of their jerseys). Root for them. You might find that you are getting into it a bit. Maybe not, but I guarantee your husband will appreciate your genuine effort and interest. Wouldn't you?
What I've come to discover is that most husbands and wives would prefer their spouse's company over most anyone else's, but because of a bad attitude or lack of effort to take turns enjoying one another's different interests, they shut each other out. They go their different directions and turn to their gal pals or buddies to fulfill that void. And not that friendships are bad, but couldn't we as spouses make just a little more effort to be the best friend to our husband or wife?
I believe the answer to that is a resounding, "Yes!"
A side note to the guys: This isn't a free pass to abuse your lady's kindness and love. Be realistic. Pick your battles. You can't watch sports 24/7, and you shouldn't expect her too. You would never watch ice skating or musicals 24/7 for her. Limit how much, who, and when you watch it. Honestly, you don't need to see every game for every sport and then turn around and watch the highlights of it all. Choose a game or two to watch here and there, and get the cliff notes for the rest. Invite your woman into the fun. Don't shut her out or tune her out for a game that really isn't going to matter in the grand scheme of life. If you put forth half the time, effort, and excitement to your marriage that you do to your sports obsession, your marriage would be the world champion, and you would be the MVP.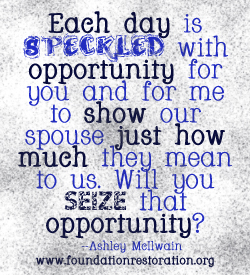 Each day is speckled with opportunity for you and for me to show our spouse just how much they mean to us. Will you seize that opportunity? Will you do it with a joyful heart out of love for your spouse? Proverbs 17:22 says a cheerful heart is good medicine. This is your chance to dispense a big dose of medicinal cheer and love to your spouse, your marriage, and yourself.
Whether it's gladly going shopping with her, or happily rooting for a team with him, these are small acts of love with big dividends. They are the simple yet powerful ways that we can daily show our commitment to demonstrating our love and keeping our marriage strong.