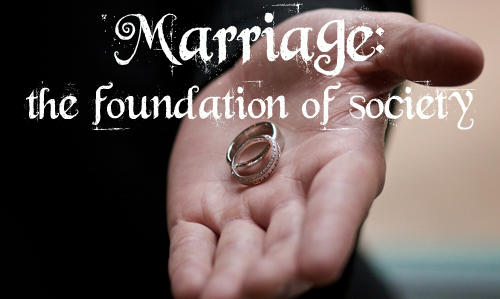 History
Our story begins in 2008 when founder and C.E.O., Ashley McIlwain, M.A., LMFTA, set out to pursue a calling that was placed on her life by God to help promote healthy marriages and relationships. Having already obtained her Masters degree in Clinical Psychology with a specialization in Marriage and Family Therapy, she couldn't shake the feeling that she was called to do something a little unconventional with her passion and training.
After a great deal of prayer by Ashley and her husband, Steve McIlwain, the idea for a non-profit organization called Foundation Restoration became abundantly clear one day while sitting in Barnes & Noble pondering ideas. While a non-profit organization was always the original long-term goal, it was a huge aspiration that she knew would take time, patience, and lots of faith. To get started, Foundation Restoration, actually began as a blog known as Little Wifey, which was the name Steve had cleverly come up with. Quickly, Ashley used this platform as an opportunity to write articles and share information, resources, and recommendations to people on a variety of topics related to marriage and relationships.
Little Wifey quickly gained momentum and a strong readership spanning all 50 States as well as countries across the world. It was clear that it was time to take that next step of faith toward getting the non-profit established. In May of 2010, Foundation Restoration became an official non-profit organization complete with the Federal approved 501(c)(3) charitable status.
Since then, Steve and Ashley have both worked hard at developing Foundation Restoration into a comprehensive resource for individuals and couples everywhere to come to in order to experience the best marriage possible. Through articles, the blog, recommendations, and resources, lives have already been impacted greatly. In addition, Ashley speaks to a wide variety of audiences about marriage and relationships through seminars and workshops, and she also meets with clients for individual, premarital, marital, and family therapy at Foundation Restoration's office in North Raleigh.
Mission
Foundation Restoration believes that marriage is the foundation of society and, therefore, aspires to have a global impact by promoting a positive message of the true benefits, blessing, and importance of healthy marriages and relationships. Through Christ-centered education, preparation, equipping, and encouraging of people at every stage of life, Foundation Restoration hopes to unlock the full potential of marriages, relationships, families, and ultimately, society as a whole.
Core Beliefs
We believe that ALL human beings have everlasting worth. (Genesis 1:27)
We believe that marriage is between one man and one woman, for life. (Matthew 19:4-6)
We believe that both spouses must possess an unwavering desire to adapt to life's challenges together. (Ecclesiastes 4:9-12)
We believe that marriage is central to family life and that children thrive best in a home where both parents are committed to selfless, sacrificial, and compassionate love. (Proverbs 19:14)
We believe that sex is a God given gift intended exclusively for husband and wife to experience unparalleled intimacy, closeness, and pleasure. (1 Corinthians 7:2-5)
We believe that Jesus' unending grace and eternal sacrifice are the quintessential illustrations of how to love your spouse daily. (Ephesians 5:1-2)
Philosophy
Our philosophy at Foundation Restoration is that society can bettered as a whole when marriage are preserved and tended to. Our heart is to impact marriages in a way that has a domino effect on children, youth, community, and globally. When the foundation of society is made strong, the whole of society is made strong. We believe that marriages are a gift from God and have unlimited benefits, possibilities, and importance.
Our Logo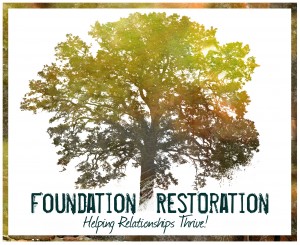 We believe a logo should capture the essence of what you are all about, and that's exactly what we feel ours does. First of all, we chose a tree as the core of our design. A tree is a sign of life, and as years go on, the roots grow deeper, the tree stronger, the branches fuller. This is how we view marriage – a living entity that grows stronger and fuller through life with roots that anchor it more deeply with each passing day. You will also notice the color variations from browns to greens, which is also symbolic to us. We believe that, like nature, marriages go through seasons in life. Sometimes those seasons are full of life and warmth like summer, and other times they contain rough, dry patches like winter. Each season though is a part of the life cycle and has its purpose and benefits.
We also believe that no matter what condition your marriage is in – the new, budding stage; brown and struggling; or lively and thriving – you can always make it better. You can always grow, and there's always hope. That is what our organization is all about – helping relationships and marriages thrive! We believe so passionately in marriages – your marriage! It is such an amazing gift and opportunity, and we want to be a part of helping you all experience the fullest, more thriving marriage possible through our ministry.
Organization Verse