By Ashley McIlwain
Does marriage matter? Is it still relevant? Is it important anymore? Is there any point to getting married or staying married for that matter?
A lot of people are asking these questions. Maybe even you are asking these questions. With so many marriages falling by the wayside, people are losing hope for marriages and questioning its importance, function, and relevance.
Why is this? When did the most important earthly relationship become the most neglected and attacked? How has it gone from a dream come true to a nightmare to be avoided or destroyed?
We've become careless with the invaluable worth of marriage. If marriage vows are as transient as a passing whim or the latest fad, then we can't possibly expect them to stand the test of time, especially a lifetime. If we're going to be selfish, self-centered, reckless, and nonchalant about our marriages and their infinite value, then they will disintegrate and disappear like a puff of cotton candy on the tongue.
Wake up world!
Marriage is the very foundation of our society. It's what every other relationship and entity is built upon. All of mankind started with this holy and sacred union (Genesis 1:27-28) between a male and female. It was that God-ordained relationship that the Lord used to fill the earth and to care for it. I repeat: marriage is the foundation of our society.
We've lost sight of that, and as such, our foundation is crumbling. As marriages are falling apart and being disregarded as vital and God-ordained, we are seeing the devastating, rippling impact on our children, families, communities, country, and world. There's no anchor, no foundation, so our society is trying to build on shaking, unstable ground. What we must understand and reestablish is that marriage is the heartbeat of our society. As that heartbeat slows and fades, death comes with it.
If you claim to be a Christian, I want to speak especially to you. We cannot claim to serve the Lord and be followers of Jesus Christ while neglecting what His Word says about marriage. We can't ignore His design for it, and we can't abandon His purpose for it. We have to stop shouting to the world what marriage should be, and we have to start showing it what it could be. It's impossible for us to lead unless it's by example. If we want people to believe in God-ordained marriage, we have to live it … demonstrate it.
How can we say that marriage is so valuable and precious, purposefully designed by God, and set apart while we cheat on, lie to, neglect, disrespect, despise, criticize, and throw away our spouse and marriage? James 2:17 says, "In the same way, faith by itself, if it is not accompanied by action, is dead." Our faith is important, but it must coincide with action. Faith alone is insufficient. It's our actions that speak loudest.
It is hypocrisy amongst the Christian community that has invalidated our testimony. Not that we are to be perfect because we know that that's impossible. In fact, we have to stop pretending perfection is the goal. "God saved you by His grace when you believed. And you can't take credit for this; it is a gift from God" (Ephesians 2:8, NLT). We need a Savior just like everyone else. But we can't scream loudly about something we are unwilling to do ourselves. How can we convince the world that God's design and purpose for marriage matters if we aren't living that truth?
1 John 4:19 says, "We love because He first loves us." It is the example we have in Jesus that guides us in loving our spouse and loving the world. Yes, it's important to use our voices to proclaim truth, but that truth will fall on deaf ears if our lives don't support what we are saying.
For far too long now, followers of Christ have been slumbering. We are allowing the world to tell us what to believe about love and marriage, when we are the ones called to be salt and light to the world (Matthew 5:13-16). If we want to put a stop to the decay and decline of our culture, then we have to clean up our own act. We have to remember our first love, Jesus Christ, repent for how we have neglected and desecrated the sacred gift of our own marriages, and with the help of the Holy Spirit, live out a love and commitment to our spouse and marriage that catches the world's attention. A marriage that stands as a city on a hill.
Marriage matters. Your marriage matters. It's so vital, so important, so precious. We can't continue our self-serving ways. We cannot chase emotional highs like a dog chases its tail. We can't continue to be reckless, careless, and selfish in our marriages. Followers of Christ, it's time to stop being conformed to the patterns of the world but rather be transformed by the renewing of our minds to know what God's will is (Romans 12:2). It's time to be selfless, gracious, patient, forgiving, committed, faithful, and intentional.
Marriage is the heartbeat of society, so we must resuscitate it. That starts with your marriage and with mine!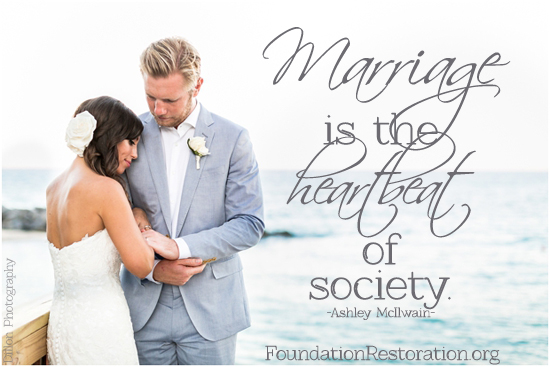 About the giveaway …
This giveaway is very near and dear to me for several reasons. Pretty much since I started Foundation Restoration, I've wanted to provide products that would help remind people and the world of the importance of marriage, but like many of my dreams and plans for the ministry, they were put on hold due to limited resources. But, I never forgot about that desire and continued to uphold it in prayer.
Then one day I met Heather Ritchie of Heather's Letters. I fell in love with her whimsical and imaginative pieces of art composed of words she'd hand-lettered in a way that made them come to life. If it's possible to draw what the heart is trying to say, she manages to do just that. And while I am slightly addicted to her creations and can't seem to resist snatching them up, I have grown to love and admire the friendship that God has allowed to develop between us even more so.
Heather has a heart for the Lord, and she possesses such creativity, strength, and beauty. She's the type of friend that inspires you to be better, and I'm thankful that she's confident enough in what God's blessed and gifted her in to support others in what He's blessed and gifted them in. In a word, she's amazing, and I'm thankful for her!
All of that being said, all the way back in October of last year (wow, has it really been that long??), I asked Heather if she'd handcraft a design or two for Foundation Restoration, and to my delight, she agreed. When she asked what I wanted her to create, I immediately knew. "Marriage is the heartbeat of society," I said. It's the essence of what I believe, and it's a phrase that captures the beauty and importance of marriage along with the passion within my soul that propels the ministry of Foundation Restoration.
Needless to say, Heather brought life to my go-to statement. When she showed me the design, I cried. It was perfect, and I think you will agree. I've taken Heather's gorgeous design and paired it with one of the softest t-shirts ever. Seriously, it's my favorite t-shirt in the history of t-shirts, and I'm excited to finally offer it to you for purchase.
Check out the shop here to get all of the details and snag one of these. Quantities are very limited right now, so you're not going to want to delay. We're also giving one away, so look below to see how you can get entered!
Special thanks to my sweet friend Heather for being amazing and helping a dream come true!
Giveaway Terms:
THIS GIVEAWAY HAS ENDED! Congratulations to our winner … Kristen!!!
PLEASE READ INSTRUCTIONS CAREFULLY to ensure eligibility!
LEAVE A COMMENT below on today's article to get entered to win today's featured Foundation Restoration 5 Year Celebration Giveaway for a Marriage is the Heartbeat of Society T-shirt (EVERYONE MUST LEAVE A COMMENT TO GET ENTERED). For additional entries do one or more of the following (most items are clickable to take you where you need to go), AND MAKE SURE TO INCLUDE WHICH YOU DID IN YOUR COMMENT BELOW!!! If you have already done any of the items listed below (for example, you "liked" us on Facebook prior to this giveaway), make sure to still include which you did in your comment below (ALL ENTRIES WILL BE VERIFIED, so please be honest)!!!
LEAVE A COMMENT on this post!
FOLLOW FOUNDATION RESTORATION (@FndRestoration) on Instagram
LIKE this giveaway photo on our Instagram, FOLLOW @FndRestoration on Instagram, POST/REPOST the giveaway photo on your own IG making sure to TAG @FndRestoration & @Heathersletters in the photo, and INCLUDE in your comment #FRturns5giveaway while tagging 3 friends. (Get an Instagram friendly photo here.)
FOLLOW FOUNDATION RESTORATION on Twitter! (Include your Twitter username in your comment – i.e., @FndRestoration)
DONATE to Foundation Restoration! (No minimum donation required)
Entries must be received by Wednesday, June 10th at midnight Eastern Standard Time. Winners will be selected randomly and notified by email. Make sure to add info@foundationrestoration.org to your contacts to ensure delivery of the email. If you're Instagram account is private, you will be asked to accept a friends request from @FndRestoration so we can verify entry. Winner will have 3 days to respond before winnings are forfeited.

Copyright © 2015, Foundation Restoration. ALL RIGHTS RESERVED. No reproduction allowed without written permission from Foundation Restoration and/or the author.