By Ashley McIlwain
There are certain moments in life you know are special. Moments when you close your eyes tightly in an attempt to snap a mental picture that will forever capture every last detail of your surroundings. They are moments that you never want to forget.
Recently I had one of those moments.
I climbed the flight of stairs before me, arrived at the top, stood at the door, and gazed at the sign before me. With a wave of emotion and tear-filled eyes, I just stared at it in disbelief. It was beautiful and overwhelming and unbelievable all at the same time … it was the sign that read "Foundation Restoration."
It's been five years since we received a letter in the mail granting us our 501(c)(3) non-profit status, and I've been patient. Patiently and earnestly I've worked tirelessly at building this organization into the ministry the Lord gave me the vision and passion for. It's been slow and sometimes tedious, but it's been rewarding and fulfilling. While I've loved writing articles, interacting with people via social media, and speaking at events, I longed for the face-to-face experience of doing therapy with individuals and couples.
After all, that's what I went to school for. Since I can remember, I wanted to be a marriage and family therapist, and I fast-tracked my way through my undergraduate and graduate programs locked on to my goal and eager to get started. But when I started Foundation Restoration, meeting with clients in the therapeutic setting got sidelined. Delayed, yes, but forgotten, no. I prayed for the day when I could put my education and training to work in the context of therapy.
I waited four years for that opportunity.
For four years I obediently shifted from therapy to online resources. Always in the back of my mind, I wondered when the Lord would make a way for me to see clients again. At times I questioned if that day would ever come.
In June of 2013, my husband, Steve, and I relocated from Southern California to Raleigh, North Carolina. Suddenly, the desire to work with clients flared up again like an unquenchable flame that caught me off guard. Through a supernatural chain of events and despite not searching for one, I was offered a position at a local counseling center. Immediately I began the licensure process for the State of North Carolina, which was quite the journey. By May of 2014, I had outsourced two days of my week to seeing clients at the counseling center.
Several months ago though, God began stirring and moving once again. Without having set out to do so, I found myself standing in an empty office space poised to sign a lease for Foundation Restoration's very first out-of-the-home office.
It may have taken five years, but the Lord was faithful in breathing life into the dream and passion I had to work with clients again. When I look back on the original business plan I penned nearly seven years ago for Foundation Restoration, having an office space to work directly with individuals and couples was one of the first goals I had for the ministry. Despite my best efforts though, I couldn't make it happen … until now.
How sweet it is, as we celebrate five years as an organization, to finally have the keys to an office space where I will begin meeting with clients again. I can't think of a more perfect moment for the Lord to provide this piece of the ministry. It's a leap of faith, but it's beyond thrilling.
As my husband, Steve, and I stood in that office holding hands and praying a prayer of dedication over the space, the tears streamed down my face. Tears of joy, gratitude, and release. God is faithful. His timing isn't always ours, but it's always perfect.
So, starting this week, I will begin doing individual, premarital, and marital therapy through Foundation Restoration! If you're in the Raleigh, NC are and in need of a Christian Marriage and Family Therapist or know of someone who is, please consider giving me a call! You can get more information on where we are located, scheduling an appointment, services offered, and more by visiting http://foundationrestoration.org/services/therapy/.
Regardless of where you are, this is a reminder that we continue to need generous donors to support our organization! One of the biggest reasons we weren't able to open an office to provide professional services is because we didn't have the donor support to do so. We need you and so do marriages everywhere! Not only is there the tax-deduction for you, but there is the opportunity to partner with us to make a difference in such a vital and needed area. So please, consider donating today!
Please take a moment to watch this special message …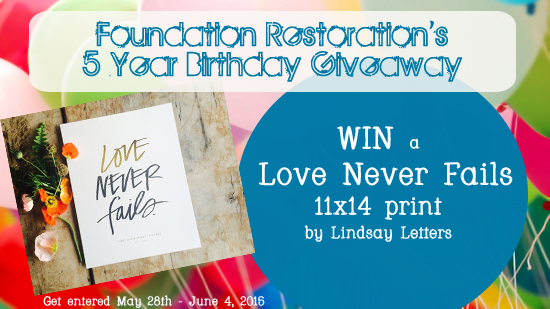 Giveaway Terms:
THIS GIVEAWAY HAS ENDED! Congratulations to our winner Brittany West!!!
PLEASE READ INSTRUCTIONS CAREFULLY to ensure eligibility!
To get entered to win today's featured Foundation Restoration 5 Year Celebration Giveaway for an 11×14 print of "Love Never Fails" by Lindsay Letters, there are two options (doing both gives you 2 entries into the giveaway):
LEAVE A COMMENT on this post!
FOLLOW FOUNDATION RESTORATION (@FndRestoration) on Instagram AND complete ALL of the following steps:

LEAVE A COMMENT on our Love Never Fails Instagram post & TAG 3 friends in your comment.
REPOST the photo making sure to TAG @FndRestoration & @lindsay_letters and include #FRturns5giveaway
ALL ENTRIES WILL BE VERIFIED, so please be honest!!! Entries must be received by Thursday, June 4th at midnight Eastern Standard Time. Winners will be selected randomly and notified by email and/or Instagram. If you're Instagram account is set to private and you're selected to win, you will be required to accept our follow request for verification. Make sure to add info@foundationrestoration.org to your contacts to ensure delivery of the email. Winner will have 3 days to respond before winnings are forfeited.
Copyright © 2015, Foundation Restoration. ALL RIGHTS RESERVED. No reproduction allowed without written permission from Foundation Restoration and/or the author.