By Ashley McIlwain
There's just something special about summertime. It energizes and invigorates. It excites, and it awakens. It warms the body and the soul. Its sunshine seems to penetrate every part of our being with its golden glow.
Yup, there's just something special about summertime.
If you feel the same way about summer as I do, then I know the perfect pairing for a sunshine-filled day. It's a fresh and easy culinary treat that I whipped up on a day that I was looking for something simple yet colorful like that of summer's pleasures. Not only is it easy to pull together, but it's also healthy and yummy (if I do say so myself).
As if you're not going to love this recipe enough, I would encourage you to grab your sweetheart and kiddos (if you've got them), and head to your local farmer's market to snag the handful of ingredients you'll need. That way you're making memories before and during your lovely meal. Not to mention you'll be supporting your local economy while enjoying the freshest of ingredients. It's an all-around treat that I hope you all will enjoy as much as my husband and I did.
Chicken Avocado Salad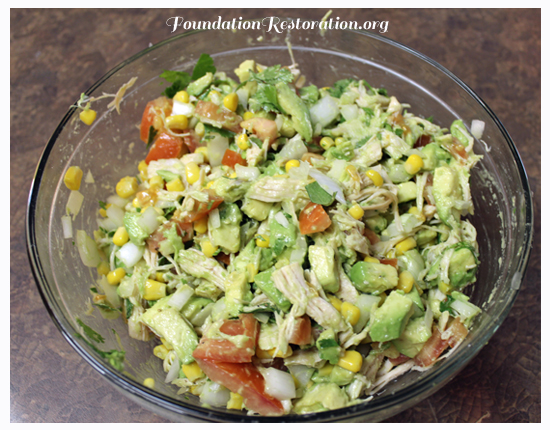 Ingredients:
3-4 avocados, cut into bite-sized cubes
½ can of whole kernel sweet corn
1-2 medium-sized tomatoes, diced
1 small onion, diced
Cilantro, about ¼ cup chopped
2 Tsp. lemon juice
Salt & pepper
1 chicken breast, cooked and shredded
Flatout Healthy Grain Flatbread (there are other varieties, but I liked this one)
Directions:
Combine all of the above ingredients into a large bowl and mix gently until combined. Add salt and pepper to taste. Take a taste, and feel free to add a little more of this or that to your preferences.
Place a liberal amount of the mixture onto one of the flatbreads, roll, and secure with a toothpick or by laying it down on its seam. Repeat for as many are needed.
*Serves 3-4 people. Serving suggestion: add a side of apple sauce or a fresh fruit medley to complete the meal. You can also skip the wrap and serve with pita chips.
Enjoy, and let me know what you think!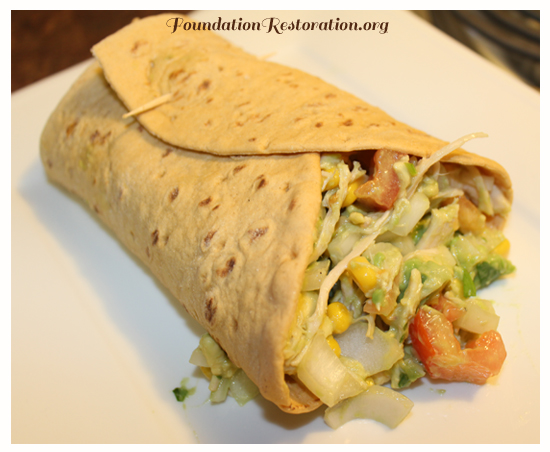 Copyright © 2013, Foundation Restoration.  ALL RIGHTS RESERVED. No reproduction allowed without written permission from Foundation Restoration and/or the author.