By Carol McIlwain
Ahhhh……..Valentine's Day.  A day devoted to the one you love, usually involving chocolate.  What started out as a simple gesture has morphed into an event of gigantic proportions:   lavish cards, expensive gifts, and destination celebrations.  Now, don't get me wrong.  Those are all great ways to celebrate, but not always practical.  A nice dinner, maybe in the dining room, possibly involving some candlelight, is a nice way to express your devotion.  And speaking of chocolate, here is a yummy cookie to complement your dinner.  It's crackly on the outside, dense and fudgy in the middle, and decadently rich all around.  This will become one of your favorites!  There is one drawback, however.  They are best on the day you make them.  So do the right thing, and gobble them all up!  You won't be sorry!
Chocolate Crackle Cookies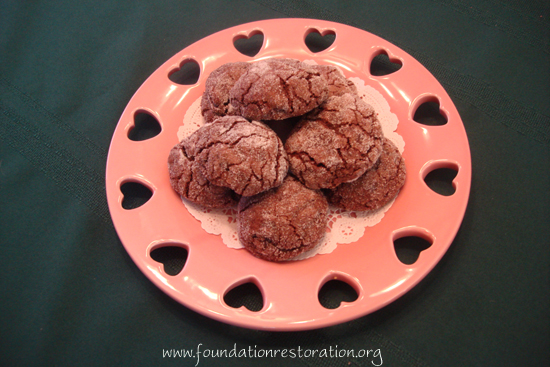 (Makes 18-24 cookies)
Ingredients:
1 cup all-purpose flour
1 cup granulated sugar, plus more for rolling
½ cup unsweetened cocoa powder, natural or Dutch processed
1 tsp. baking powder
Pinch of kosher salt
4 TBS (½  stick) unsalted butter, ½" dice
1 cup (5 oz.) chocolate chips
2 large eggs, room temperature and slightly beaten
Directions:
Center a rack in the oven and preheat oven to 350*.  Line 2 cookie sheets with parchment paper.
Mix flour, sugar, cocoa, baking powder and salt together in a large bowl (or the bowl of an upright mixer) with a rubber spatula.  Rub in the butter with your hands until the mixture resembles coarse meal.  Stir in the chocolate chips.  Gradually pour in the eggs, and using a handheld mixer (or the paddle attachment of a stand mixer) beat on lowest speed just until the eggs are blended into the ingredients.
Roll dough (it is sticky and stiff) into 1-2" balls (I use a #40 cookie scoop, available at a restaurant supply store.) and roll in granulated sugar until all sides are coated and place on prepared sheets about 2" apart.  Flatten slightly.   Bake 11-12 minutes or until crackly on top and still a bit soft.  Let cool a few minutes on the cookie sheet, and then move them to a rack.  Cookies will firm as they cool.