By Loryn Purvis
Since I'm from the South, there are a few dishes I'm expected to know how to make well by default. I'm expected to have a killer fried chicken recipe, bake buttermilk biscuits with my eyes closed, and brew tea so sweet it will give you a toothache! Yes, I can do each of those things pretty well, but I honestly think it has more to do with my general love of cooking than my Southern heritage.  However, a few nights ago I thought my husband and I could benefit from a nice culinary reminder of where we're from, so I tried my hand at Shrimp and Grits for the first time.  What a great evening! I made a batch of the sweetest tea that has ever been brewed west of the Mississippi, served it in classic mason jars, and headed outside to the patio to enjoy a Southern dinner under the stars. Awesome, low-key date night, and it wasn't even the weekend!!
Maybe it's time for you and your spouse to take a gastronomic road trip back to your roots. Grab a recipe from your past or theirs, and make a night out of it!
Old Bay Shrimp and White Cheddar Grits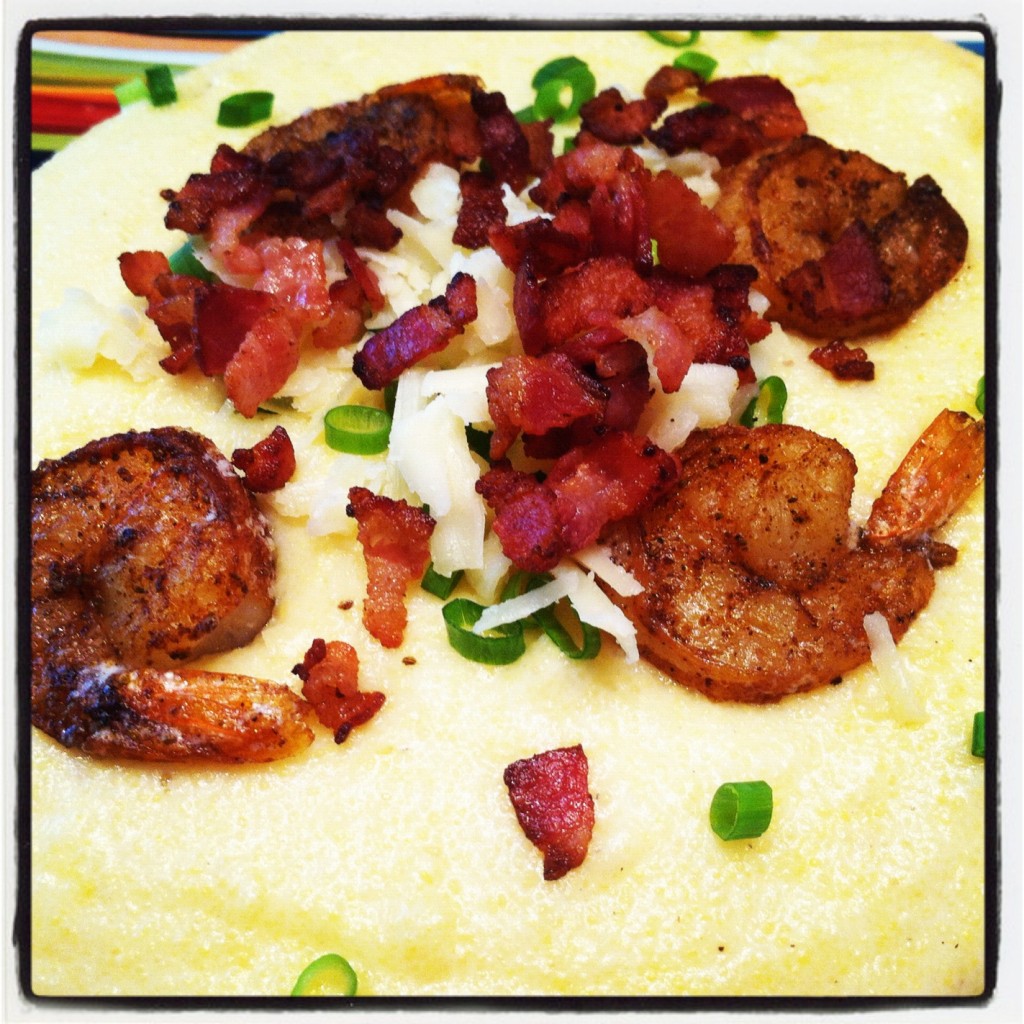 For the Shrimp
5 slices a bacon, chopped
10 small to medium shrimp, peeled and deveined
Old Bay Seasoning
Black Pepper
2 T melted butter
Heat pan to medium and add chopped bacon. Cook until fat is rendered from bacon and bacon is crisp. Remove bacon using a slotted spoon and set aside, keeping bacon fat in pan. Season shrimp generously with Old Bay and black pepper. Add to pan and cook until pink and slightly springy to the touch.  Remove from pan and brush with melted butter. Set aside.
For the "Grits"
4 ½ cups water
1 ½ teaspoons salt
1 ¼ cups yellow cornmeal
1 cup sharp white cheddar, ¼ cup reserved for garnish
¾ cups whole milk, room temperature
5 T unsalted butter, room temperature
¼ cup thinly sliced green onions
black pepper, to taste
Bring water to a boil in a large, heavy pot. Add the salt. Gradually whisk in the cornmeal. Reduce heat to low and cook, stirring often, until the mixture thickens and the cornmeal is tender, 15 to 20 minutes. Remove the pot from the heat and add cheese, milk and butter. Stir until butter and cheese have melted. Season with black pepper.
Transfer grits to plates and top with remaining white cheddar, shrimp, bacon and chives. Serve.
Copyright © 2012, Foundation Restoration.  ALL RIGHTS RESERVED. No reproduction allowed without written permission from Foundation Restoration and/or the author.