By Loryn Purvis
Often times good food and a good relationship have two very important things in common … both take time and patience.  In your relationship, if you're not willing to put in quality time, it is very likely that the relationship will become dull and lifeless. In the same way, patience is a key ingredient in healthy, thriving relationships. We all need to be extended a certain amount of grace from time to time because none of us is perfect. Patience is crucial.
While there are plenty of quick prep dishes out there that will leave you full and satisfied, it's also true that in order to develop really good, complex flavor, you have to be willing to put in the effort. Sure, you can make marinara sauce in 15 or 20 minutes, but I promise you it will taste nothing like the marinara sauce you let simmer on the stovetop all day long. You just can't compare the two!
Made with Arborio rice, onions, white wine and chicken stock, Risotto is a great example of a dish where the payoff is well worth the time and effort you put in. For some reason this classic dish intimidates many people, but the truth is that if you are wiling to take the time real risotto requires, it's really very easy to make. Once you've mastered the risotto method you can play around with it and add all kids of fun ingredients. Think Mushroom Risotto, Saffron Risotto, Spring Vegetable Risotto, Spicy Shrimp Risotto, and so much more! The combinations are endless!
Next time you want to use food to let someone know how much you care, consider Risotto. Whip up some appetizers and invite your loved one to join you in the kitchen while you cook. While the rice soaks up the chicken stock you will have plenty of time to snack on the apps with your spouse and catch up with one another. Ahhh … sounds like a great evening to me!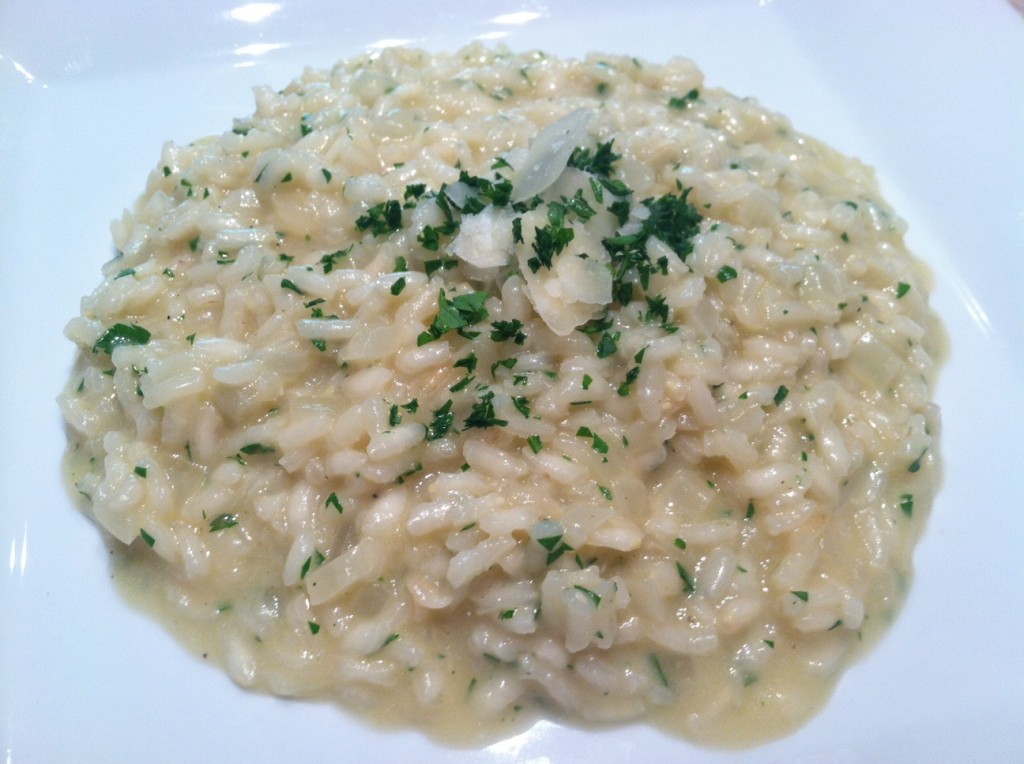 White Truffle Parmesan Risotto
5 cups low-salt chicken broth
1 tablespoon olive oil
1 large onion, small dice
1 1/2 cups Arborio rice or medium-grain white rice (about 10 ounces)
3/4 cup dry white wine
3 tablespoons finely chopped fresh Italian parsley
1 tablespoon butter
1 cup finely grated Parmesan cheese
1 tablespoon white truffle oil (or to taste, a little goes a long way)
Bring broth to simmer in medium saucepan; cover to keep warm. Heat oil in heavy large saucepan over medium heat. Add onions and cook until soft but not brown, stirring often, 4 to 5 minutes.
Add rice to pan; stir 1 to 2 minutes. Add wine; stir until absorbed, about 2 minutes. Add 1/2 cup warm broth to saucepan; stir until broth is absorbed. Repeat adding broth and stirring until rice is tender but still firm to bite and sauce is creamy, stirring almost constantly, about 23 minutes total.
Add chopped parsley, butter, parmesan cheese, and truffle oil. Season to taste with salt and freshly ground black pepper.
Copyright © 2012, Foundation Restoration.  ALL RIGHTS RESERVED. No reproduction allowed without written permission from Foundation Restoration and/or the author.