By Ashley McIlwain
Life is tough. There's no way around it; it's just full of valleys and mountaintops, ups and downs, highs and lows. At one time or another for one reason or another, we all experience pain, heartache, brokenness, sadness, and sickness. It's inevitable and unavoidable.
Since we can't do anything about eliminating the trials of this life, we are left with the decision of how we are going to choose to handle these obstacles. Are we going to take them in stride, learning and growing from them? Are we going to become bitter, angry, and tainted? Are we going to find the silver lining in it all? Are we going to isolate ourselves and become depressed? Each of us makes these choices when we undergo the difficulties of life.
One thing I've come to discover through my own problem hurdling is that relationships are crucial for overcoming them. Family and friends are our support system and earthly strength for times of weakness. While my tendency is to put on a smile and not allow anyone in during my internal downtrodden days, I have learned it's important to permit the people God's placed in my life to help bear my burdens (Galatians 6:2). Allowing them to do so alleviates some of the weight on my shoulders and heart while opening them up for the blessing of being repaid in abundance by God for their kindness and generosity (Luke 6:38).
The flip side of this is being that support for the loved ones in your life.
Ephesians 4:2 says, "Be completely humble and gentle; be patient, bearing with one another in love." What if this was our approach to helping our precious loved ones through sticky or challenging situations? How much hope, strength, and encouragement would that bring them?
Most of us desperately need the empathy and understanding of our loved ones. When we receive it, we are lifted up and able to face far more than we would have ever thought possible. On the other hand, when we don't receive that love and support, we can feel totally hopeless, abandoned, and discouraged. We can't underestimate how significant of a role we play in one another's life amidst the storms.
In Philippians 2:4 we are instructed to look out not only for our own interests, but also the interests of others. I believe this is especially true for our loved ones, particularly our spouse. 1 Timothy 5:8 boldly states, "But if anyone does not provide for his relatives, and especially for members of his household, he has denied the faith and is worse than an unbeliever." That tells me how serious of a matter it is to minister to the needs of my spouse and family.
There's no doubt that it's easy to get caught up in our own miseries and afflictions. We might have had a bad day, aren't feeling well, or are struggling with emotional circumstances ranging from miniscule to mammoth. And while it's important to reach out to your spouse and family for support during those periods in your life, it's equally, if not more, vital to extend a helping hand to your loved ones when they are floundering through such times. Truly our empathy and support can be the very lifeline that our spouse, family member, or friend desperately needs.
A great example of the victory that can come through the love and support of others can be found in Exodus 17:8-16. The Amalekites had attacked the Israelites. Moses had sent Joshua to fight back while he stood at the top of the hill holding up his hands with the staff of God. As long as his arms were raised, the Israelites were winning, but his hands got tired. That's when Aaron and Hur came alongside of Moses providing him with a place to sit, and then they each sat on either side of him holding up his arms until sunset. As a result, Joshua and the Israelites overcame their adversaries.
What foes is your spouse facing? Is there something they are dealing or struggling with that you can come alongside of them, holding them up until they are victorious? Perhaps they just need someone to embrace them. Maybe it's helping lighten the load they are bearing at home or work. It could mean words of encouragement and affirmation spoken over them. Something as simple as a card with some kind words of strength from time to time could be the difference between them making it or breaking down.
Recently I have been dealing with some health issues myself. Actually they are ongoing health issues that started over seven years ago. In an attempt to not burden those around me, I don't talk about them much and do my best not to complain about the pain and struggles I face as a result of my illness. As the doctors have poked, prodded, and put me through a plethora of tests to try and pinpoint the problem, it's been a physically, emotionally, and mentally exhausting journey. The last several weeks being some of the hardest I've faced on this journey thus far.
Through my recent medical escapades, I've discovered just how much I've needed the love, prayers, and support of my husband, family, and close friends. I can tell you they've been a huge reason why I've been able to keep going. Especially with my husband, I've flat out needed his physical presence. Him holding me when I was literally weak and physically incapable of doing much made me feel like I could wage a war. And truthfully, if I felt like I was encumbering him, I struggled to keep my head above water. I can't imagine how I would have managed these wearisome times without him. My own health fiasco has opened my eyes to the vital role loved ones play during these types of scenarios. What I need, I want to give.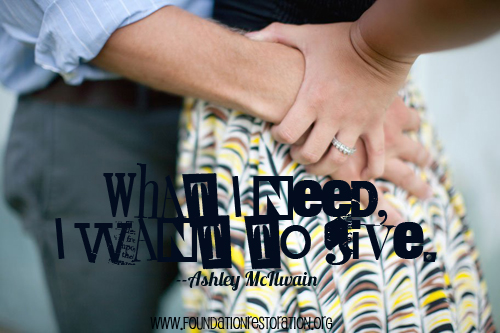 God places us in people's lives for a reason. It's no coincidence or accident that you chose and married your spouse. You are appointed as his wife or her husband. With that placement comes privilege and responsibility. You are to care for and nurture your spouse through trying and difficult times. Same goes for being a sister, brother, mother, father, daughter, son, etc. God gave you one another, so "Do not neglect to do good and to share what you have, for such sacrifices are pleasing to God (Hebrews 13:16)."
So, I ask you … is there something that your spouse is going through right now that they need your love and empathy to get them through? Is there a hug, kind word, prayer, or helping hand your loved one needs? Do you have a shoulder that needs cried on? How can you love someone the way Christ loved you (John 15:12)? Where can you bless and minister to a person in desperate need?
Start with your spouse. They are your treasure and the one person you are most responsible to care for in this lifetime. No one is more deserving of your love, empathy, prayers, and support than your spouse. So take the time to find out if there's a situation they desperately need you to help them through.
"Give, and it will be given to you. Good measure, pressed down, shaken together, running over, will be put into your lap. For with the measure you use it will be measured back to you." –Luke 6:38