By Loryn Purvis
If you were to ask me what my greatest discovery in food has been while living in Southern California, you might be surprised at my answer. I would unequivocally declare that the one food I have come to love like never before … wait for it … is the taco.  Yes, there is finer fare to discover in the land of milk and honey – flavors that will stump your taste buds and thrill your palate can be found around every corner. However, no food has been so radically transformed into something I find myself craving at least three times a week, like the simple taco.
Before living in Orange County, the taco had a very simple and definite meaning.  It came in a crunchy corn or soft flour tortilla. The meat inside was always the same, ever so finely ground beef that could easily be mistaken for something I would feed my pup. Throw some shredded cheddar, sour cream, lettuce and tomatoes on top, and there you have it.  A taco. I liked tacos and would hit up the fast food taco joint down the street from our house once every few months or so … maybe.
Then I met a real taco. Taco Stands are a dime a dozen in So Cal, and I've tried more than my fair share. To my great delight, my absolute favorite taco place is a mere mile from where we live, making it way too easy to stop by once, twice, even three or four times a week! The taco that does it for me best is the carne asada on a soft corn tortilla with jack cheese and guacamole. That's it. The meat is seasoned so perfectly that there is little need for anything else. My husband, BJ, loves to get blackened fish tacos with green cabbage, tomatoes, cotija cheese, and a special little sauce. See what I mean about the tacos? They come so many different ways that the combinations are impossible to list!
For a while now I've been daydreaming about creating a taco that would take all of the new tricks and ideas I've learned and combine them with my husband's absolute favorite southern staple – fried chicken. Thus, last night the fried chicken taco was born, and let me tell you, I couldn't be more excited about it!
The marriage between down-home southern fried chicken and the very-California taco is a lot like the marriage of two independent people from two totally different families of origin. Men and women bring different traditions, communication styles, conflict styles, and ways of thinking into their marriage. I personally think that's a great thing, because if husbands and wives agreed upon absolutely everything, then one of them wouldn't be necessary. We need our spouse to challenge us and push our limits in a healthy way.  Healthy marriages are built upon compromise, understanding, and the meshing of two smart, once-independent people.
I love this recipe because it reinforces the idea that two totally unique and interesting things can come together with a really awesome outcome.  I hope you'll give it a try or better yet, come up with a recipe of your own that blends something you love with something your spouse really enjoys. You can't go wrong!
Fried Chicken Tacos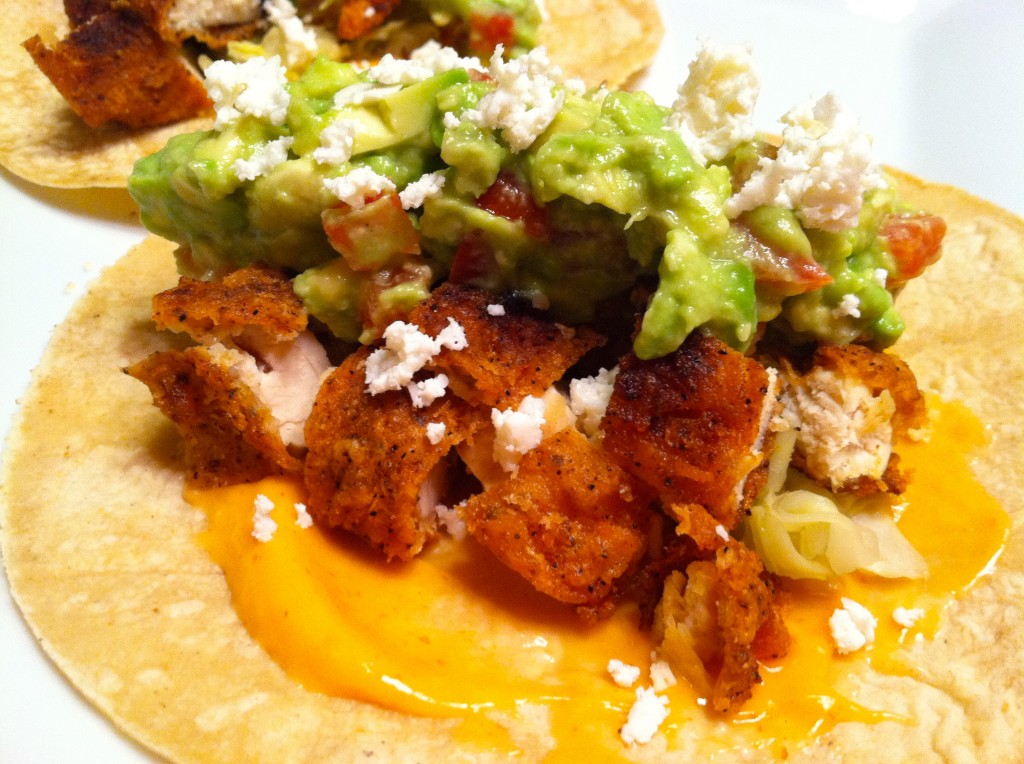 2-4 chicken breast cutlets
1.5 cups AP Flour
2 t. chili powder
1 t. garlic salt
1/4 t salt
1 t. black pepper
1-2 eggs
corn tortillas (can substitute flour)
cotija cheese or jack cheese
pickled cabbage- Bring rice wine vinegar, brown sugar, coriander seeds, caraway and black peppercorns to a boil. Simmer 10 minutes. Poor over cabbage; let cool.
guacamole- Combine avocado, lemon juice, seeded and diced tomatoes, diced red onion, salt and pepper. Mash and mix using a fork.
sriracho mayo- Combine 1/2 cup mayo with 1 T. sriracha
Season breasts with salt and pepper. Add garlic salt, pepper and chili powder to flour. Create dredging station of seasoned flour and beaten eggs. Coat chicken with flour, then in egg, then back into the flour. Shake off excess in between each dip. Heat oil in pan over medium-high until a drop of flour sprinkled in makes it sizzle, but not so hot that it starts smoking. Add chicken and cook each side until golden brown and crispy, about 6 minutes on each side. An instant read thermometer stuck into chicken should read 165 degrees.
Let chicken stand for 5 minutes and then dice into bit sized pieces. Layer sriracha mayo, cabbage, chicken and guacamole on a warmed corn tortilla. Top with cheese.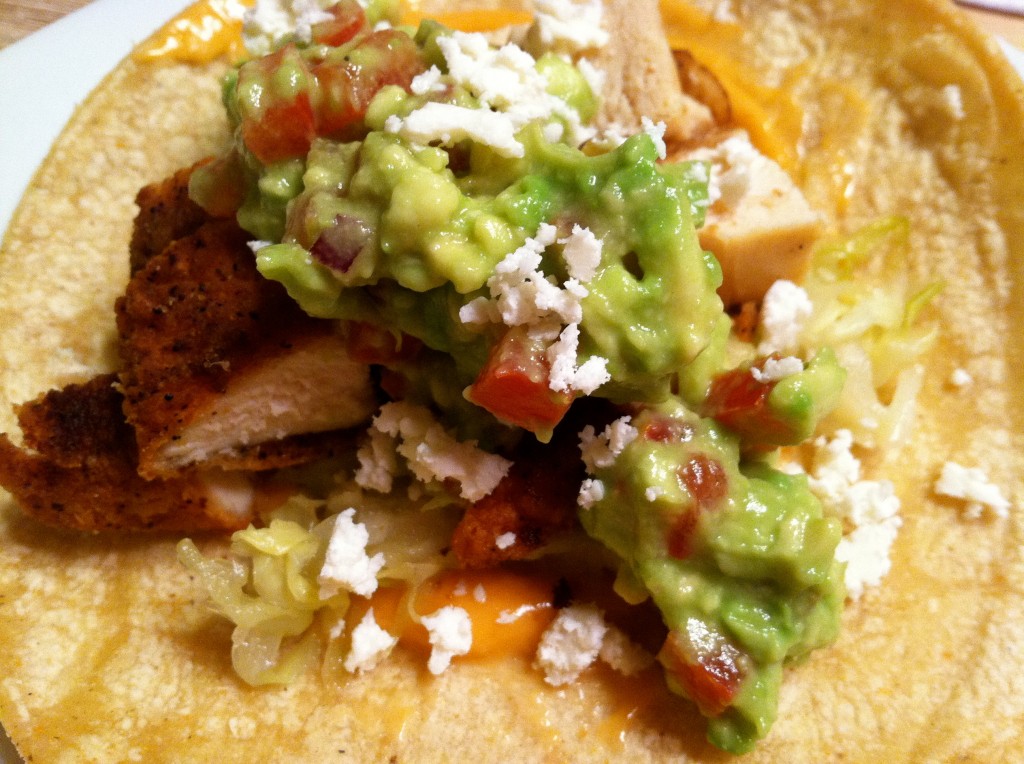 Copyright © 2012, Foundation Restoration.  ALL RIGHTS RESERVED. No reproduction allowed without written permission from Foundation Restoration and/or the author.