By Loryn Purvis
I learned early on in my marriage that a well-fed husband is a happy husband. If I have some important news I need to deliver to BJ, or when there is a serious decision we need to make together, things always go more smoothly when we both have a full belly.  I know I'm not alone in this … I even have a story from the Bible about my favorite heroine, Abigail, that further proves my theory.
Abigail was married to a foolish, wicked man named Nabal. One day David sent his servants to Nabal asking that he please feed his men since David had been protecting and caring for Nabal's own men. Greedy Nabal not only refused, but he actually hurled insults at David instead. When David heard this, he became very angry and pledged to kill Nabal and every single man belonging to him.
Nabal's wife, Abigail, received word of how recklessly her husband had behaved and quickly set out to try to make things right. 1 Samuel 25:18 tells us that she loaded donkeys with two skins of wine, five dressed sheep, roasted grain, one hundred raisin cakes and two hundred fig cakes, and hurried out to meet David and his men on the road before they got to her husband.  The minute she saw David she fell down before him, asked for forgiveness for Nabal, and offered him and his men all of the food she brought in exchange for David's mercy. It worked! David spared Nabal and his men and thanked Abigail for her good judgment. Ten days later God struck down Nabal and David took Abigail as his wife.
Talk about cake saving the day! Abigail knew the old adage that the best way to a man's heart is through his stomach, and her wisdom saved hundreds of lives.
Now I'm not suggesting that you use delicious food to butter your spouse up in order to avoid conflict. However, I am suggesting that before you enter into a conversation you believe will cause conflict or stress, you should consider your timing.  If your spouse has had a long, stressful day at work, then it's probably not a good idea to bombard them with more stress the minute he or she walks in the door.
Ecclesiastes 3:1 reminds us "There is a time for everything, and a season for every activity under the heavens." This includes conflict.
Next time you have something important to discuss with your spouse, and you know that because it is a sensitive subject there's a chance it could lead to conflict, choose your timing carefully. Good timing can make things go much more smoothly where bad timing can kill the conversation before it even begins.  Always consider your timing when entering into these kinds of conversations, but when all else fails … bake a cake!
Chocolate "Conflict" Cake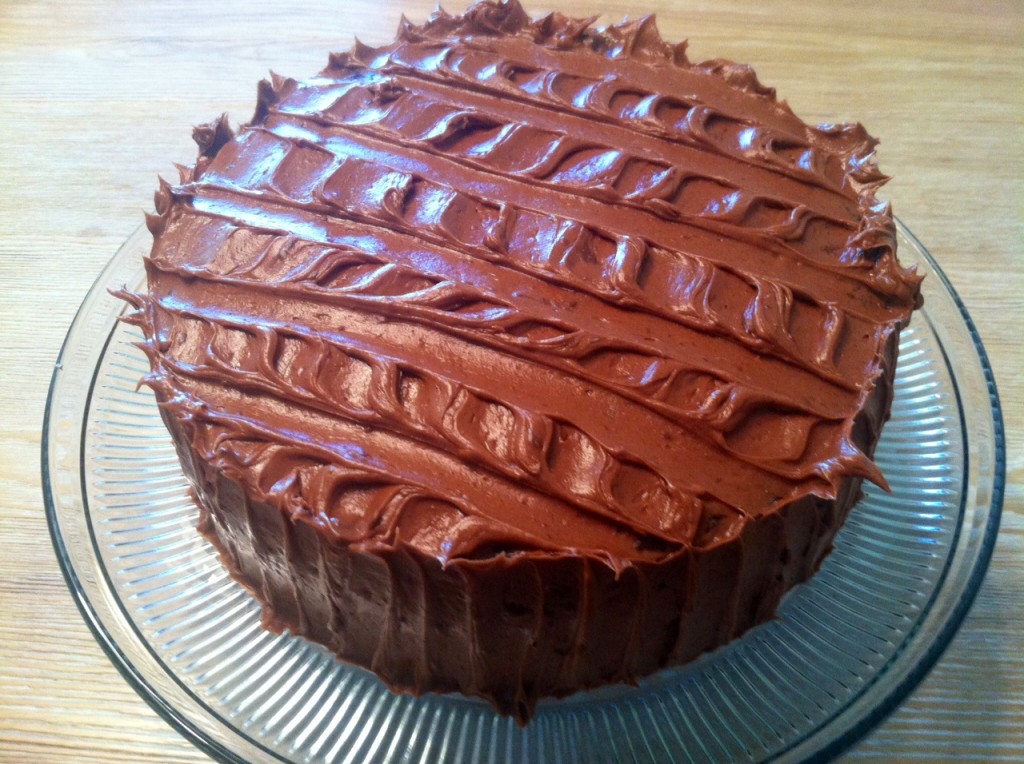 For the Cake:
1 3/4 cups all-purpose flour
2 cups sugar
3/4 cups cocoa powder
2 teaspoons baking soda
1 teaspoon baking powder
1 teaspoon salt
1 cup buttermilk (No buttermilk? 1 cup milk plus 1t. vinegar will do)
1/2 cup vegetable oil
2 extra-large eggs, at room temperature
1 teaspoon pure vanilla extract
1 cup freshly brewed hot coffee (Coffee brings out the flavor of the chocolate)
Preheat the oven to 350 degrees F. Butter two 8-inch x 2-inch round cake pans. Line with parchment paper, then butter and flour the pans.
Sift the flour, sugar, cocoa, baking soda, baking powder, and salt into the bowl of an electric mixer fitted with a paddle attachment and mix on low speed until combined. In another bowl, combine the buttermilk, oil, eggs, and vanilla. With the mixer on low speed, slowly add the wet ingredients to the dry. With mixer still on low, add the coffee and stir just to combine, scraping the bottom of the bowl with a rubber spatula. Pour the batter into the prepared pans and bake for 35 to 40 minutes, until a cake tester comes out clean. Cool in the pans for 30 minutes, then turn them out onto a cooling rack and cool completely.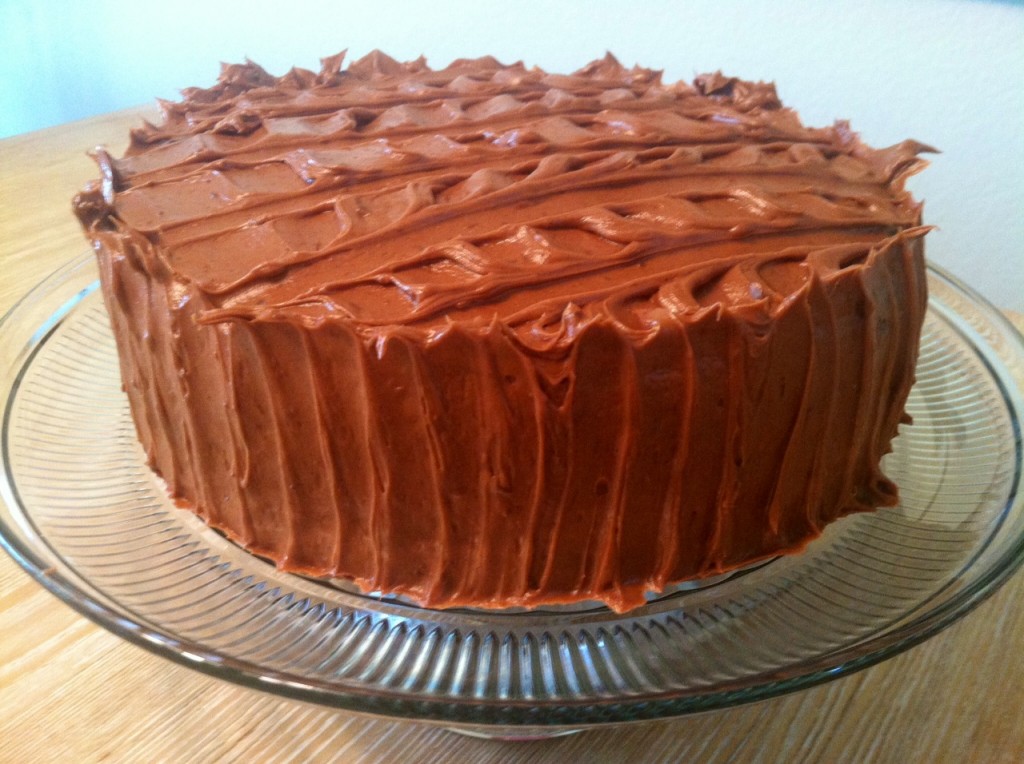 For the Chocolate Frosting:
6 ounces semisweet chocolate (get the best you can, but regular old chocolate chips works just fine)
2 sticks unsalted butter, at room temperature
1 extra-large egg yolk, at room temperature (If you're afraid of raw egg, buy pasteurized or replace with a tablespoon of heavy cream)
1 teaspoon pure vanilla extract
1 1/4 cups sifted confectioners' sugar
1 teaspoon instant coffee powder
If necessary, chop the chocolate and place it in a heat-proof bowl set over a pan of simmering water. Stir until just melted and set aside until cooled to room temperature.
In the bowl of an electric mixer fitted with a paddle attachment, beat the butter on medium-high speed until light yellow and fluffy, about 3 minutes. Add the egg yolk and vanilla and continue beating for 3 minutes. Turn the mixer to low, gradually add the confectioners' sugar, then beat at medium speed, scraping down the bowl as necessary, until smooth and creamy. Dissolve the coffee powder in 2 teaspoons of the hottest tap water. On low speed, add the chocolate and coffee to the butter mixture and mix until blended. Don't whip! Spread immediately on the cooled cake.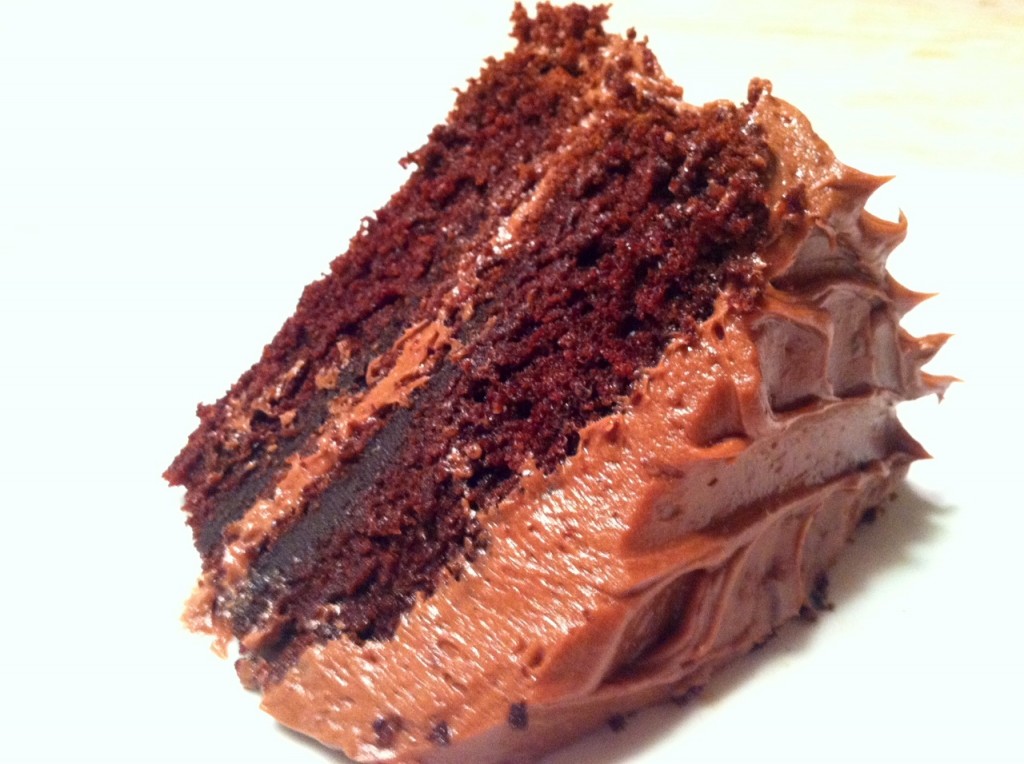 Enjoy!!
-Recipe adapted from Ina Garten
Copyright © 2012, Foundation Restoration.  ALL RIGHTS RESERVED. No reproduction allowed without written permission from Foundation Restoration and/or the author.