Foreword by Ashley McIlwain
Over the past several months, I've been really wanting to add a special feature that included recipes. It seemed to make sense because we all need to eat, and who doesn't love a good recipe? But what stirred me the most to launch this culinary feature is the fact that there are few places like the kitchen that can cook and stir up such heartfelt love.
The kitchen has so much potential for communicating love to those cooked for. I think that's why "good 'ol home cookin'" always tastes the best because of the extra care, time, and love involved. You can taste the difference, and that's why I wanted to bring that very concept into the homes of my readers.
Not just anyone would do for the author of this new feature though, which is where my dear friend Loryn Purvis comes in. Not only is she an incredible and loving wife, but she's also an amazing chef! She's astoundingly talented, and her passion and love for cooking and people are so clearly conveyed through her culinary concoctions. That's what makes her so special; she puts her heart into it. That's also what made her perfect for our new feature … Table For Two.
Without further ado, it is with such honor, gratitude, and excitement that I present to you the debut of Loryn Purvis and Table For Two!
By Loryn Purvis
While we don't agree on much, Virginia Woolf and I do agree on one thing…
"One cannot think well, love well, sleep well, if one has not dined well."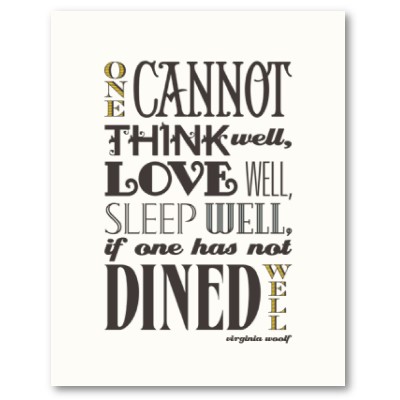 Well said Virginia, well said. Few things in life bring contentment more quickly than delicious food. Bad days are transformed, boring nights are re-energized, and downcast souls are given life. Good food brings happiness … even if ever so briefly.
I like to show love by cooking tasty food. I cook for family, friends, neighbors, sometimes even strangers. Taking the time to thoughtfully plan out a meal, go out and buy the freshest ingredients I can find, and then artfully weave everything together into a delicious meal, is pure joy to my soul.
The person I love to cook for more than anyone else in the world is the love of my life, my husband. My husband, BJ, knows that when I set a plate of food in front of him it's much more than simply something to fill his stomach. He knows that it is my way of letting him know on a daily basis, just how much I love him. For us, home-cooked meals are the bridge between what might have gone wrong in our relationship earlier in the day to how we can move forward to enjoying our evening together.  Our relationship is recharged and rebooted when we sit together at the dinner table and share a meal.
Whether you consider yourself a good cook or not, it's always meaningful to prepare a thoughtful meal for the person you love. No matter how things turn out, your loved one will appreciate the time and thought you put into it.  Stumped on where to start? Think back to a significant event in your relationship and try to recall if food played an important role. Maybe you still remember what he ordered on your first date or the meal she first prepared for you after you got married. If you've been on a dream vacation or honeymoon, it's always fun to recreate a meal from that trip. The sky's the limit! Remember, it's not (necessarily) all about the food. It's about using the food to transport you and your spouse back in time to a place that reminds you how great your love is for one another.
Still drawing a blank? Maybe this food thing is new for you … you're more accustomed to eating to live instead of living to eat. That's ok! I'll let you borrow my recipe for Gnocchi in Gorgonzola Cream Sauce from a trip to Italy my husband and I took last fall. For you, this will be less about the memory and more about the fact that you took the time to do this…and that's awesome too!
Happy Cooking!
Gnocchi With Gorgonzola Cream Sauce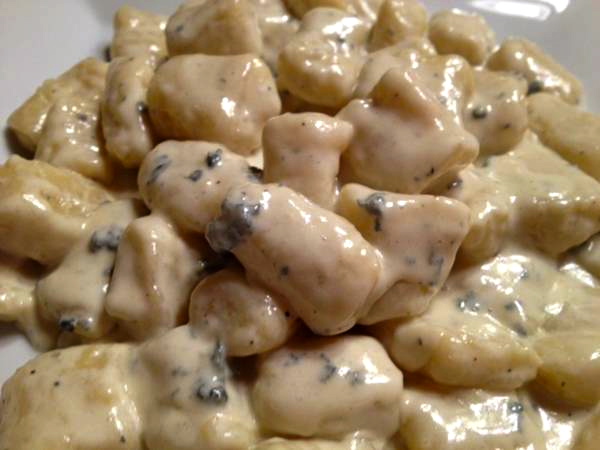 For the Gnocchi:
2 lbs. russet potatoes
2 cups all purpose flour
2 egg yolks
Nutmeg, to taste
1 teaspoon salt
¼ teaspoon pepper
Boil the whole potatoes in salted water until done. You should be able to easily pierce the skin with a fork.
Peel the potatoes while they are still warm.
Rice the potatoes. If you don't have a ricer you can use a fork the finely mash the potatoes.
Let potatoes cool.
Mix potatoes with the egg yolks, nutmeg, salt and pepper, and work into a dough. Careful not to over mix because gnocchi will become too dense.
Roll out dough into 1 inch wide ropes.
Using a knife, cut dough into 1 inch dumplings…now you have you're gnocchi! (to get the traditional look of gnocchi, roll the back of a fork over each dumpling to give it the classic ridges)
Boil gnocchi in two or three patches to avoid overcrowding the water. Gnocchi are done when the float the top of the pot…approximately 3 minutes.
For the Cream Sauce:
16 oz. heavy cream
1 Medium shallot, minced
2 cloves garlic, minced
4 oz. Gorgonzola Cheese
Nutmeg
Salt & pepper
Sauté shallot in olive oil over medium heat until translucent. Add garlic and continue cooking for one more minute.
Add heavy cream and lower the heat to a simmer. Simmer 10 minutes.
Strain the cream mixture into a new saucepan, discarding the shallot and garlic.
Whisk in the Gorgonzola cheese and nutmeg.
Let simmer until sauce is thickened.
Season with salt and pepper.
Toss gnocchi with cream sauce and serve.
Copyright © 2012, Foundation Restoration.  ALL RIGHTS RESERVED. No reproduction allowed without written permission from Foundation Restoration and/or the author.