Simply Nesting by Ashley McIlwain
It can be tough to turn something you are good at into something profitable, especially when also balancing being a wife and mom. That's exactly what my friend and entrepreneur, Sara Larsen has done though. Having a knack for being creative and crafty, Sara decided to take her God-given gifts to the next level and create an amazing, hand-crafted goodie store, Simply Nesting, that is getting rave reviews.
One glance at her unique and beautiful creations, and I knew her story was one I needed to share. Establishing that being a mom and wife come first in her life, Sara has managed to delicately weave together her love for her family with a career. It's inspirational and encouraging.
Recently I asked Sara about her inspiration, balancing it all, and managing to be creative in her marriage. Check it out …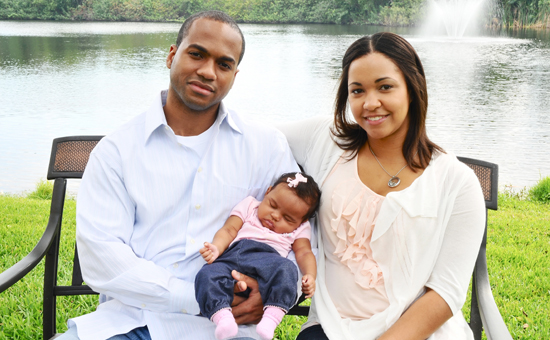 First, tell us what Simply Nesting is.
Simply Nesting is an online shop where I display and sell my hand-crafted goods.  Mostly for baby nurseries, although some people have begun purchasing items for weddings, parties, and gifts.
What was your inspiration for Simply Nesting? 
Simply Nesting came to be when I was pregnant with my now six month old daughter, Sophia.  Having studied art in college, I decided to make most of her nursery decor myself.  Family and friends (especially my mom and mother-in-law ) would see her nursery and tell me that I should start selling my designs.  At that time I wasn't thinking of anything but finishing her nursery and giving birth to our little princess.  When Sophia was about three months old, I realized I absolutely did not want to go back to work or have to find a caregiver for her. That is when I decided to give it a shot.  Shortly after I opened my Etsy shop, I realized it was the best decision of my life.  God guided me, blessed Simply Nesting, and I am now receiving multiple orders almost daily.   
How do you balance being a wife, mother and entrepreneur?   
Balancing the three is something I am constantly working on.  During the day caring for Sophia is my main goal.  Keeping up with the housework, laundry, and cooking all comes second to her.  Sometimes when she naps, I throw in a load of laundry, do the dishes, or start dinner.  My life is hectic now.  Sometimes I think that I am crazy for jumping into this.  In the end I always come back around to thinking that this is what I am supposed to be doing.  I have never before felt like this about any job. 
How does your husband feel about you being a working wife and mom?  
He is so supportive … always.  On his days off, he watches Sophia so I can fulfill orders and just have some time alone.   
Do you have any advice for a husband who has a wife that works? 
Be supportive and help out where you can.  Helping your wife with the smallest things can make the biggest difference in her day.
In what ways do you manage to make quality time for you and your husband? 
We try to go out alone at least once a month.  We are happy to have both our parents close by, so we have no trouble finding a sitter.
Obviously you are super creative, how do you incorporate creativity into your marriage? 
Again, we try to go out at least once a month, although it can be difficult with a baby. 
What has been the most valuable lesson you have learned about being a mom? Wife?  
Patience, patience, patience and more patience.  I love being a wife and mom!
Is there anything you hope your customers take away from purchasing your hand-crafted goods (besides the amazing product they just purchased)?
I want my customers to be happy with their purchase.  I want it to put a smile on their face.  I love getting positive feedback after I send out an order too! 
If there were one piece of advice you could give to a working wife and/or mom, what would it be? 
Go with the flow.  You will never be able to plan or organize your family's life perfectly.  It just won't happen.  Before I was married and had a baby, I would have my days activities planned out.  I can no longer do that.  In the morning I may have an idea of what I will get done during the day, but I always try to remember that I am not in control.  If you don't get it done today, try tomorrow.  The laundry will get done, eventually!
"Thank you, Sara!" for not only sharing some encouragement and insight with all of us, but for donating one of your incredible goodies to one lucky winner. For more information about Sara's lovely designs, visit the Simply Nesting store.

Simply Nesting Hand-crafted Set of 20 Assorted 3D Wall Butterflies in any color the winner chooses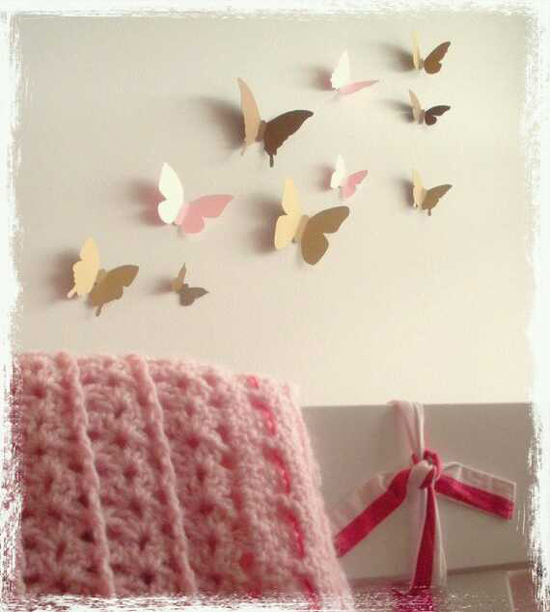 COMMENT BELOW to get entered to win today's featured giveaway. For extra entries do one or more of the following AND MAKE SURE TO INCLUDE WHICH YOU DID IN YOUR COMMENT BELOW!!! If you already did the things below (for example, you "liked" us on Facebook yesterday), that's okay; it still counts, but just make sure to still include which you did in your comment below!
Like us on Facebook
Follow us on Twitter
Link to our site (share the link please)
Subscribe to our newsletter
Like Simply Nesting on Facebook
Follow Simply Nesting on Twitter
Entries must be received by tonight at midnight Pacific Standard Time. Winners will be selected randomly and notified by email the following day. Open only to those living in the U.S. (So sorry

)